If a crooked smile has been bugging you for years you may think it unbelievable to be able to straighten it with speed and discretion, but believe us when we say that clear braces in Beaconsfield can help you get there. We at Garden View want to offer you, and other adults like you who have lost confidence due to crooked teeth, the opportunity to straighten any misalignments you have quickly and easily, so that you can get back to embracing life with confidence and the assurance that you are presenting the best smile you can to the world.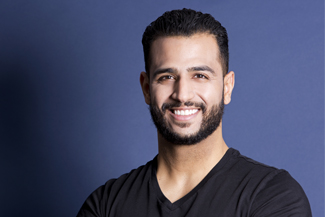 The psychology of a beautiful smile
While your teeth may work just fine to bite into and chew food and logically there should be no reason for their crookedness to be irritating you, there is in fact a psychological reason why they are; natural selection. It is ingrained in humans to choose a mate that is 'of the best stock' the most attractive and healthy that we can find in order to continue our genes, now attractiveness has an ebb and flow over different generations, but the theory remains the same; we inherently look for the best option available to us. This isn't just true when it comes to searching for a romantic partner, but it also has an effect on who we prefer to work with, and who we trust with important things, so what does this have to do with teeth?
People in society are constantly making unconscious observations about those around them, observations based on our natural instincts when finding partners. People with good teeth automatically outrank those with seemingly 'bad teeth.' These perceptions that society makes based on our smiles are not something we can avoid, which is why so many people are looking to improve their features, starting with the teeth and clear braces in Beaconsfield.
How it works
Invisalign is a system devised with clear aligners that gently push your teeth into the correct position. By using a digital scan of your mouth and teeth, a laboratory is able to create a custom set of aligners for the course of your treatment, each aligner is made slightly different to the last so as to accommodate the new tooth position, as well as continue to push them into place until they are aligned just how you want them to be.
Benefits
Invisible – as the words 'clear aligner suggest', this treatment is completely invisible and no one will even see that you have anything in your mouth, allowing you to partake in orthodontic treatment with discretion, instead of the old methods that would have seen you wearing metal braces for 2 years.
Removable – for those into active-sports lifestyles in their free time, the aligners are completely removable for short periods of time, as well as for eating and cleaning, which allows you to enjoy life as usual without any hindrance.
Quick – for those of you who are in a hurry to fix your smiles, you will be pleased to know that clear braces in Beaconsfield allow you to fix your misalignments quickly without any damage to your natural teeth.