Are you a fan of coffee, tea, fizzy drinks or fruit juices? Do you suffer from gum disease or hereditary dental problems? A lot of people are suffering from yellowing and discoloured teeth because of these issues, or simply because of the ageing process. Whether you want to add a sparkle to your smile for your wedding day, or perfect your look for business meetings, whitening is simple, safe and affordable. Many people say that they feel younger after the treatment, having erased the effects of ageing, coffee, red wine or cigarettes.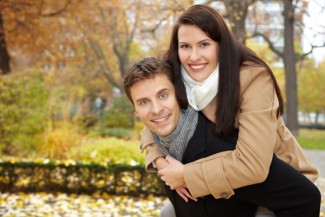 A white, bright smile looks healthy, youthful and beautiful. Being happy with your smile is a vital component in anyone's confidence levels. In Buckinghamshire, teeth whitening is a cost-effective, safe and reliable method of brightening your teeth. At Garden View, we offer a choice of whitening treatments to help you achieve that dream smile.
Power Whitening
In Buckinghamshire, teeth whitening is becoming a popular choice for our patients, with in-house treatments, such as power whitening being the quickest option.
This is a very simple and effective procedure for those who wish to whiten teeth quickly. It is done in the dental surgery and is very useful for those who are short of time.Your dentist at Garden View will apply a protective coating to cover your lips and gums. Whitening gel is placed into a tray that fits snugly over your teeth.Alight is directed over your teeth to activate the bleaching process, which takes around an hour. All you have to do is lie back and relax while your teeth become several shades brighter.
Home Whitening
Probably the most convenient method of teeth whitening in Buckinghamshire, we can offer teeth whitening that can be done in the comfort of your own home. You will need to come and visit Garden View, so we can take impressions of your teeth. We then have customised trays made that are designed to fit snugly over your upper and lower teeth. You then apply the specially formulated gel inside the tray and wear it either at night or during the day for a few hours. After just two weeks, your smile will be whiter and brighter and your confidence will be glowing too.