In the blink of an eye, the holidays are over. And while you had a lot of fun with friends and family, you also ate more sweets than you had planned. But that's ok as long as your first priority is to visit the dentist after the holiday season.
At Garden View Dental Care, we are here to help you get through the dental pitfalls of the holiday season. Scheduling an examination and cleaning with your dentist in Buckinghamshire straight after the holidays is a great idea because prevention will help avoid cavities and keep your teeth as healthy and strong as possible.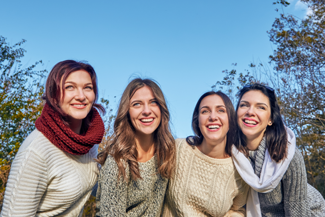 We are not here to tell you off
Even if you had many more sweets than you originally planned, it is really important to tell us the truth. After all, we need to know what's going on in your mouth so that we can create the best treatment plan possible. Hopefully, you didn't forget to brush and floss your teeth regularly between family visits and Christmas parties. However, even if you brushed and flossed your teeth religiously, chances are that plaque has formed in between your teeth. In this case, your dentist in Buckinghamshire will remove it and restore your teeth to their former glory.
Gum disease is the enemy
Gum disease is another reason you should visit the dentist straight after the holiday season. Sugar and food remains can remain trapped in-between your gums and since not a lot of people floss (tends to be the most forgotten or disregarded step of the oral hygiene routine), chances are that your gums may be prone to infection. Your dentist in Buckinghamshire will clean your gums thoroughly and educate you on the benefits of flossing. If you don't know how to floss, simply ask us and we will give you the best tips.
Don't forget your dentist in Buckinghamshire
Visiting your dentist in Buckinghamshire after the holiday season is really important, but it's not the only time you should see your dentist. Instead of planning random appointments, aim to visit at least once every 6 months or more often if you think that you are experiencing a dental problem.