Cosmetic dentistry deals with the aesthetic appearance of your smile. At Buckinghamshiredental practice Garden View, we offer a large selection of cosmetic treatments, many of them taking less time than you might think. Your dream smile could be just a few appointments away.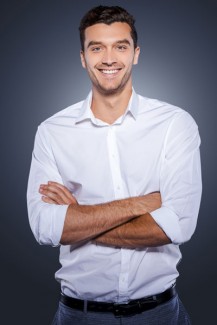 What cosmetic dentistry can do for you
If anything about your current smile is making you unhappy, we invite you to join us for a cosmetic dentistry consultation here at Garden View Buckinghamshire. You will be seen by an experienced cosmetic dentist, who will perform a detailed clinical examination as well as finding out a bit about you and what your ideal outcome from treatment is.
Every smile is as unique as the person behind it, and we will work with you to create the smile of your dreams. You may require one treatment or a combination of two or more from our extensive cosmetic dentistry menu; whatever your requirements, your dentist will provide you with a customised and detailed treatment plan, so that you know exactly what to expect.
Among the most popular cosmetic dentistry options at our Buckinghamshire clinic are:
Teeth whitening
Carried out by a dentist, this is a safe and effective method of boosting your smile. It's also very quick; we offer two teeth whitening options at our Buckinghamshire practice – home whitening, which takes two weeks, and power whitening, which takes just an hour.
White fillings
Metal amalgam fillings can add an unwanted glint to your smile. We can safely remove them and replace them with strong and durable tooth-coloured fillings, which are made from composite material.
Porcelain veneers
Veneers are very thin porcelain shells, placed over the front surfaces of the teeth to improve their appearance. You can have one veneer or a full set, which is called a smile makeover.