Cosmetic dentistry covers a wide range of treatments. One of the most common problems reported to our dentists at Garden View Dental Care in Buckinghamshire is gappy teeth. Some patients described gaps between their front teeth as suffering from black triangles. The clinical term for this condition is open gingival embrasures.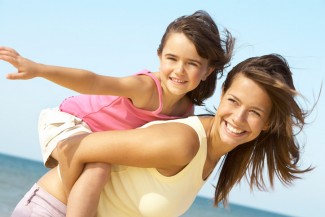 Here at Garden View Dental Care, cosmetic dentist Dr Makhani offers a range of treatment options for patients who are bothered by gappy teeth.
These are some of the ways cosmetic dentistry can help you wave goodbye to black triangles for good. . .
Composite bonding
Composite bonding is a common practice in cosmetic dentistry. It involves using the same strong composite material that is used to create white fillings to build up and reshape your teeth.
At Garden View in Buckinghamshire we use the ClarkMatrix system, which uses clear forms filled with composite material that is closely matched to the natural shade of your teeth to close up any gaps. This is shaped and polished to add extra shine, giving you a smile that you can be proud of. Treatment improves the integrity of the gum and the aesthetic appearance of your smile.
Porcelain veneers
Veneers are very thin pieces of porcelain that are placed over the front surface of the front teeth to disguise a wide range of aesthetic problems, including gappy teeth. They are firmly attached with strong dental adhesive.
Veneers are a popular choice in cosmetic dentistry and are a minimally invasive procedure, which requires very little preparatory work on your teeth. Your dentist will choose a shade of porcelain that closely matches the colour of your teeth for an entirely natural-looking result, where your teeth appear closer together.
Six Month Smiles
We are pleased to offer Six Month Smiles adult braces at our Buckinghamshire dental practice. These discreet braces move your teeth closer together in as little as six months.